Description

Introducing our newest product, the Platinum Sparkly Shampoo for horses! Specially formulated with high-quality ingredients, this shampoo is designed to give your horse's coat a sparkling, platinum shine that will leave them looking their best.

This shampoo is perfect for horses with all fur colours, as it is designed to enhance and brighten their natural color while removing dirt and grime. Its unique formula contains gentle cleansers that effectively remove dirt and sweat, leaving your horse's coat clean and fresh.

The Platinum Sparkly Shampoo also contains moisturizing agents that help to nourish and hydrate your horse's skin, preventing dryness and irritation. This ensures that your horse's coat remains healthy and shiny, with a beautiful natural sheen.

This shampoo is easy to use, simply apply to your horse's coat and massage gently, then rinse thoroughly with water. You'll notice the difference in your horse's coat immediately after the first use, with a noticeable improvement in shine and brightness.

Trust us, your horse will thank you for using the Platinum Sparkly Shampoo! It's the perfect choice for anyone looking to enhance the natural beauty of their horse's coat and keep them looking their best.

INGREDIENTS: Aqua, Sodium Laureth Sulfate, Cocamidopropyl Betaine, Sodium Chloride,Disodium Laureth Sulfosuccinate, Laureth-2, Peg-7 Glyceryl Cocoate, Parffum, Polyquarternium-7, Panthenol, Edta, Hydroliyzed Wheat Protein, Magnesium Nitrate, Citric Acid, Ethylchlorioisothiazolinone, Magnesium Cloride, Methylisothiazolinone

500ML.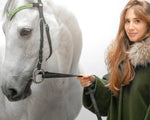 Italian Tack excellence
Elevate your equestrian experience with our exceptional products, curated with passion and expertise. We offer unmatched quality and style that sets us apart.