Description

Our Bitless SidePull bridle is designed for horse owners looking for a bitless option for sensitive horses or for a bridle with custom pressure points for the horse's comfort.

Developed in collaboration with expert rider Jessica, the bridle is versatile and adjustable with gel padding at key pressure points and a classic leather browband included. Made from eco-friendly leather.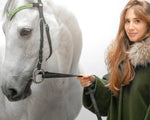 Italian Tack excellence
Elevate your equestrian experience with our exceptional products, curated with passion and expertise. We offer unmatched quality and style that sets us apart.