Description

Introducing the Starlight Halter, where sparkle meets elegance in perfect harmony. This exquisite halter offers a luxurious experience for both you and your beloved horse. Crafted with meticulous attention to detail, it embodies the ideal balance between dazzling style and refined sophistication.

Designed with your horse's comfort in mind, the Starlight Halter features gel padding throughout, ensuring a gentle and plush feel against your horse's skin. The paddings of this halter are adorned with small iridescent blue crystals, adding a touch of shimmering beauty to your equine companion. With its adjustable design, you can effortlessly regulate the halter to ensure a perfect fit, promoting both comfort and security.


Furthermore, this new model boasts a slightly thinner profile compared to our previous offerings, resulting in a sleeker fit.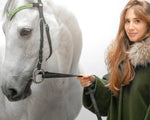 Italian Tack excellence
Elevate your equestrian experience with our exceptional products, curated with passion and expertise. We offer unmatched quality and style that sets us apart.