Description

Introducing the revolutionary SNB Bridle, the ultimate equestrian accessory that combines simplicity with versatility. Designed to meet the needs of riders who value convenience and functionality, this bridle offers a unique feature that sets it apart from traditional designs. With the SNB Bridle, you get a two-in-one solution that effortlessly transforms from a bridle with a flash to a sleek and uncomplicated bridle in a matter of seconds.

The standout feature of the SNB Bridle is its detachable flash, providing you with unparalleled flexibility. Whether you're preparing for a vet check or riding a horse that doesn't require a flash, simply remove it to obtain a clean and classic bridle. This ingenious feature saves you time and hassle, ensuring that your horse remains comfortable and at ease during every ride.

Not only does the SNB Bridle excel in its functionality, but it also prioritizes comfort and ergonomic design. Crafted with the utmost attention to detail, this bridle offers an exceptional fit for both horse and rider. The carefully selected materials ensure optimal durability and long-lasting performance, making it a reliable choice for riders of all disciplines.

Included with the SNB Bridle are high-quality reins that provide a secure and reliable grip. The luxury browband, featuring velcro closures, adds a touch of elegance and sophistication to your horse's attire. Should you desire to personalize your bridle further, our exclusive offer allows you to choose an additional browband of your choice at a discounted price. Add a pop of color or select a design that reflects your unique style, effortlessly customizing your horse's look.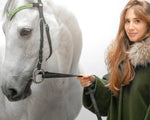 Italian Tack excellence
Elevate your equestrian experience with our exceptional products, curated with passion and expertise. We offer unmatched quality and style that sets us apart.