Description

A Halter is a headgear that fits behind the ears and around the muzzle and is used to lead your horse outside his box, in the field, or on your way to competition.

Our #Classica follows the same process as our Classic Browbands! Choose the color of your halter, and then choose the colors and their arrangement! You can add two lines of crystals, choosing everything yourself! Make your own dream halter!

This delicate halter is a very suitable accessory for those looking for a halter to use every day. The Classic halter is ergonomic, with a wide positioning on the gel headpiece. This allows the halter to adapt perfectly to your horse's head and give it 100% comfort.

The classic is suitable for any horse, very soft and original!! A huge plus is that you can create the match of your dreams!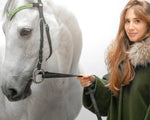 Italian Tack excellence
Elevate your equestrian experience with our exceptional products, curated with passion and expertise. We offer unmatched quality and style that sets us apart.