Description

The new BLING IT BRIDLE features fully padded and anatomic design, with a headpiece that reduces pressure on sensitive areas and allows for natural ear movement. The Luxury white browband is customizable, and the noseband is anatomically designed for comfort with padding both in front and under the throat.

The leather is super soft and does not require greasing, and the crystals on the nose piece and browband can also be customized. Note that the reins are sold separately.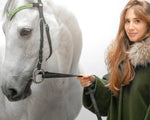 Italian Tack excellence
Elevate your equestrian experience with our exceptional products, curated with passion and expertise. We offer unmatched quality and style that sets us apart.