Description

A cute and easy way to identify your halter, bridle or anything else you want! Our personalized tags are made of stainless steel and are fully customizable! From the shape, to the color, to the small details such as the sign that you can insert that best represents your horse.

They are available in various forms, so that you can decide according to your needs. The customized jewels require a week to 6 of production time. This depends on availability.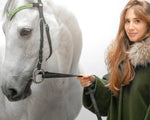 Italian Tack excellence
Elevate your equestrian experience with our exceptional products, curated with passion and expertise. We offer unmatched quality and style that sets us apart.