Description

Introducing our exquisite Double Layer Braided Stone Bracelet with a touch of elegance and a dash of luck. This stunning piece combines the beauty of braided stones with the allure of a gold-plated horseshoe charm, creating a unique and captivating accessory for any occasion.

The gold-plated horseshoe charm serves as a symbol of good fortune, capturing the essence of timeless luck and protection. Its elegant design complements the braided stones, creating a striking contrast that enhances the overall aesthetic appeal of the bracelet.

One of the most remarkable features of this bracelet is its fully adjustable design. Whether you prefer a snug fit or a looser style, the adjustable clasp allows you to customize the size to your liking, ensuring a comfortable and secure fit for any wrist.

This bracelet is not only a fashionable accessory but also a meaningful keepsake. It makes an ideal gift for loved ones, symbolizing their journey and celebrating the positive energy that surrounds them.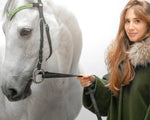 Italian Tack excellence
Elevate your equestrian experience with our exceptional products, curated with passion and expertise. We offer unmatched quality and style that sets us apart.