Description

Introducing the ultimate solution for your horse's coat and skin! Our cannabis fur oil is a premium quality, all-natural product designed to nourish and revitalize your horse's coat and skin. Infused with a blend of hemp-derived cannabinoids, including CBD, this oil provides a range of benefits that will leave your horse looking and feeling its best.

This unique blend of ingredients works to hydrate and protect your horse's fur, leaving it soft, shiny, and healthy. The CBD oil helps to soothe and calm the skin, reducing inflammation and promoting healing. Additionally, the oil is rich in antioxidants and essential fatty acids, which help to support the health of the skin and coat.

Whether your horse is dealing with dry, itchy skin or dull, brittle fur, this cannabis fur oil is the perfect solution. Simply massage a small amount into your horse's fur and skin, and watch as it transforms into a lush, healthy mane and tail. So why wait? Give your horse the pampering it deserves and order our cannabis fur oil today!

INGREDIENTS: Prunus amygdalus dulcis oil, Cannabis sativa seed oil, Parfum, Limonene.

300ML.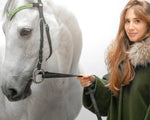 Italian Tack excellence
Elevate your equestrian experience with our exceptional products, curated with passion and expertise. We offer unmatched quality and style that sets us apart.