Description

Introducing the revolutionary new way to clean and refresh your horse's coat! Our Dry Shampoo Mousse is a must-have grooming tool for horse owners. This convenient, easy-to-use mousse formula makes it simple to give your horse a spa-like experience, no matter where you are. The mousse formula penetrates deep into the horse's coat, removing dirt and oils without the need for water. Say goodbye to time-consuming baths and hello to a refreshed, revitalized horse in just minutes!

Our Dry Shampoo Mousse is made with all-natural, gentle ingredients that are safe for horses and the environment. The formula is free of harsh chemicals and fragrances, making it perfect for horses with sensitive skin. The mousse formula is lightweight and fast-drying, so you can spend more time riding and less time waiting for your horse to dry. The long-lasting, refreshing scent will leave your horse smelling amazing for days!

Whether you're at the barn, on the road, or out in the field, our Dry Shampoo Mousse is the perfect solution for keeping your horse looking and feeling their best. Its compact size and convenient squeeze bottle make it easy to carry with you wherever you go. And, with its quick and easy application, you can have your horse looking and feeling great in no time!

Order your Dry Shampoo Mousse today and enjoy the benefits of a refreshed, revitalized horse in minutes!

INGREDIENTS:Aqua, Sodium laureth sulfate, Disodium laureth sulfosuccinate, PEG-7glyceryl cornate, Parfum, Cocamidopropyl betaine, EDTA, Chlorhexidinedigluconate, Panthenol, Polyquaternium-7, Cournarin, Magnesiurn nitrate, Benzylsalicylate, Hydroxycitronellal, Citronellol, Geranio, Alpha-isomethyl ionone, Methylchloroisothiazolinone, Magnesium chloride,Methylisothiazoli none.Contiene: REG. CE 648/2005 <5 tensioattivi anionici, non ionici.

Altri componenti: profumo, colore.

200ML.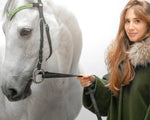 Italian Tack excellence
Elevate your equestrian experience with our exceptional products, curated with passion and expertise. We offer unmatched quality and style that sets us apart.