Description

Is your product damaged or is it very visibly damaged?

Then this is the service for you!

To request help for a damaged product, please complete all boxes. The form will ask you to provide information about your product, such as the order number, model and date of purchase.

Furthermore, the form will ask you to attach a photo which will allow us to assist you better. This information is important to ensure that the problem is resolved correctly and that the most available solutions are adopted.

After completing the form, our technical support team will contact the telephone number provided to confirm the details of the request and provide you with instructions for the shipping process. If the product is under warranty or if the defect is confirmed as a manufacturing defect, the cost and replacement will be at our expense. Otherwise, you will be charged 24 Euros for the total repair.

Sparks N Blings reserves the right not to accept to repair or exchange items outside the warranty month and not from our online shop.

For this service, at the checkout, please select the damaged product shipping or SELEZIONA SOLO IN CASO DI PRODOTTO DANNEGGIATO shipping fee.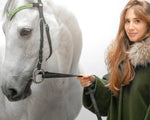 Italian Tack excellence
Elevate your equestrian experience with our exceptional products, curated with passion and expertise. We offer unmatched quality and style that sets us apart.