Description

Discover our one-of-a-kind #TheOne browbands, 2022's best-sellers. Handcrafted with over 200 Swarovski crystals, they merge artistry and durability. Each piece is carefully stored in a waterproof sealable bag.

Plus, extra crystals included!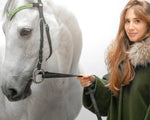 Italian Tack excellence
Elevate your equestrian experience with our exceptional products, curated with passion and expertise. We offer unmatched quality and style that sets us apart.