Description

Introducing the ultimate horse cleaning kit, designed to keep your horse looking and feeling their best! This kit includes everything you need for a thorough clean, from top to tail.

First up, the Platinum Shampoo, with its 500ml bottle, is a luxurious and deep-cleansing formula that gently removes dirt, sweat, and grime from your horse's coat. This shampoo is specially formulated to help enhance and restore the natural shine of your horse's hair, leaving them looking and smelling great.

Next, the Dry Mousse Shampoo, with its 200ml bottle, is a quick and easy way to clean your horse's coat without the need for water. This innovative formula is perfect for use in between baths, or for spot-cleaning after a ride. Simply apply the mousse to your horse's coat, massage it in, and then brush it out - it's that easy!

The Detangler Spray, with its 300ml bottle, is an essential addition to any grooming kit. This spray helps to tame and smooth out tangled hair, making it easier to comb or brush. Not only does it make grooming easier, but it also helps to prevent breakage and damage to your horse's hair.

Finally, the Hydrating Mane and Fur Oil, with its 300ml bottle, is a nourishing and conditioning treatment that helps to keep your horse's hair soft and healthy. This oil is perfect for use after a bath or grooming session, as it helps to lock in moisture and keep your horse's hair looking and feeling its best.

In addition to these fantastic products, each order also includes a soft silicone brush with a shampoo dispenser or a microfiber glove. The brush and glove are perfect for massaging shampoo into your horse's coat, as well as for removing dirt and grime.

Overall, this horse cleaning kit is a must-have for any horse owner who wants to keep their horse looking and feeling their best. With its range of high-quality products and handy accessories, this kit is sure to make grooming a breeze!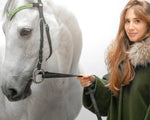 Italian Tack excellence
Elevate your equestrian experience with our exceptional products, curated with passion and expertise. We offer unmatched quality and style that sets us apart.